New product body composition analyzer / body analyzer / body fat analysis machine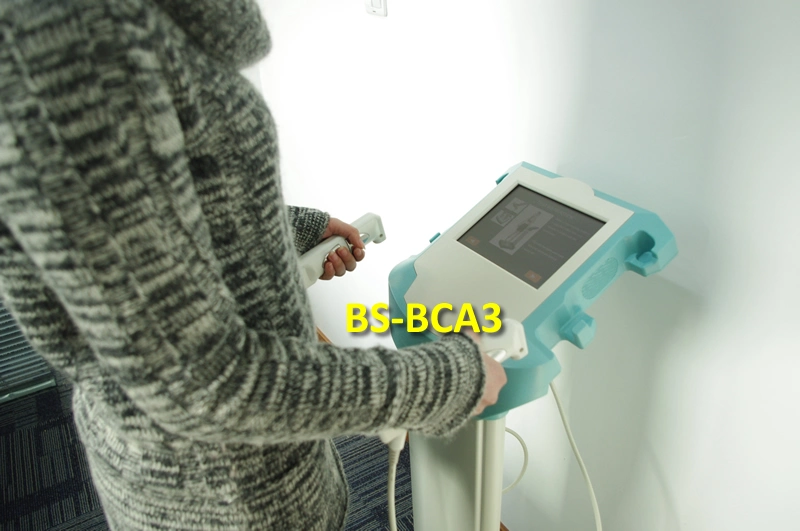 What Is Body Composition Analyzer & BS-BCA3?
Body Composition Analyzer is designed to calculate regional body composition, empowering healthcare professionals to better determine health risk associated with visceral and abdominal fat. The BS-BCA3 model is based on the latest statistics method Direct Segmental Multi-frequency Bioelectrical Impedance Analysis Method, DSM-BIA, which analyzes human body composition including fat, weight, BMI (Body Mass Index), none-fat and other health indicators through multi-frequency bio-electrical impedance analyssis method.
Current has different penetration force depending on frequency. Low frequency cannot penetrate cells and flow on the external surface's water, it measures only water content outside cells, while higher frequency means that you can measure even the water content inside cells since it penetrates inside cells. BS-BCA3 uses 5 different frequencies and can accurately measure water contents inside and outside cells separately, and also perform the viscereal fat evaluation.

Why Choose BS-BCA3?
1) BS-BCA3 Features
- 5 different frequencies for analysis from 5KHz to 500KHz
- 8 electrodes and 6 channels testing
- Accurate viscereal fat evaluation
- Intracellular water and Extracellular water detection, support edema index analysis
- Segmented data output including resistance values
- USB interface to connect with computer or printer
- Advanced software includes customer information management
- Large LCD display and rich output items
2) Advantage
BS-BCA3 high-end professional body composition analyzer system, it has following advantages:
1. High precision
2. Fast-testing within 1 minute
3. Big scale LCD screen to show testing report
4. USB2.0 output interface, support external printer
5. Optional software client end
6. Stable output and durable design
7. Easy to use
8. All accessory can be reuse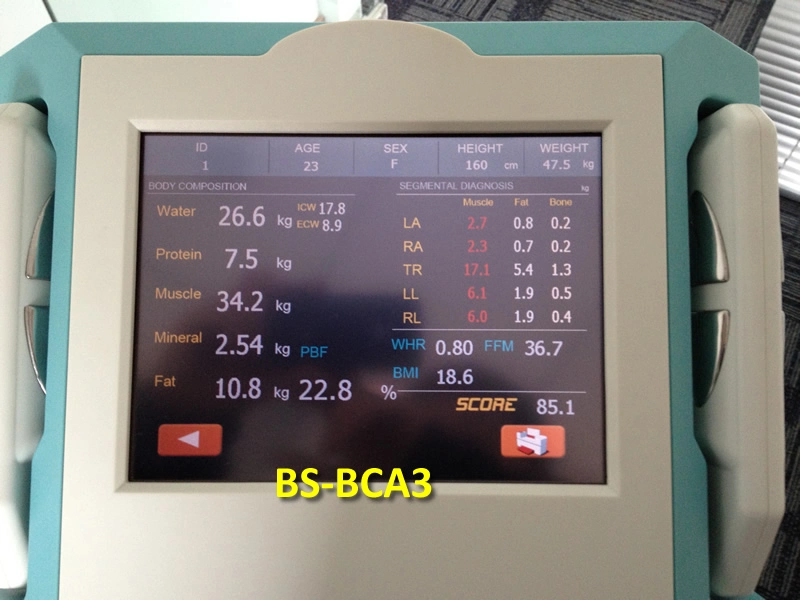 3) Specification Chart
Measurement Method

Direct Segmental Multi-frequency Bioelectrical Impedance Analysis

Method(DSM-BIA)

Electrode

Tetrapolar 8-Point Tactile Electrode System

Body composition calculation method

No Empirical Estimation

Testing Frequency

5, 50, 100, 250, 500 KHz

Output (38 Items)

Basic Items

Bodyweight (auto detected)

Intracellular water, Extracellular water, Total Body Water(TBW) Protein, Bone Mass, Fat Mass, Percent Body Fat (PBF),

Muscle Mass, Skeletal Muscle, Fat Free Mass (FFM), Visceral Fat Index, Percent Body Protein/Bone/Water, BodyMass Index (BMI), Waist to Hip Ratio (WHR), Basal MetabolicRate (BMR), Edema Index (EXF/TF) Fitness score, Body Shape Graph, Body Age

Segmental Analysis

Segmental Fat, Segmental Muscle, Segmental Bone

Muscle Analysis

Skeletal muscle level , Upper-Lower Balance, Left-Right Balance

Weight Management

Target Weight, Weight Control, Fat Control, Muscle Control

Obesity Analysis

BMI Grade, PBF grade, WHR type

Nutrition Analysis Protein, Fat, Mineral Level

Impedance

Impedance of Each Segments &Frequencies

Measurement item

Right arm, left arm, body, right leg, left leg

Analysis History Storage

10000 (can export through USB port)

External Interface

RS232, USB2.0 (Storage & Printer), Ethernet

Control Panel

True colorful touch screen

Printer

External Laser Jet (USB) or Connect to computer

Power

100 - 240V, 50/60Hz

Net Weight

25Kg

Resistance Scope

100 ~ 1100
FAQ
1, What is the Payment Terms?
Re: T/T (Wire Transfer), Western Union, Paypal, Credit card.
2, How do you delivery the machine?
Re: By door to door service, say DHL,UPS,TNT,FEDEX etc., Or by sea.
3, What about the delivery time?
Re: About 3-7 working days.
4, What's package?
Re: Strong and beautiful aluminum alloy case or carton.
5, Do you offer clinical training?
Re: Yes, we will send you the operation video, we provide the online face to face training as well.
6, Do you have any timely technology supports?
Re: Yes, we have a professional technology supporting team for your timely services. You are welcome to contact us by email, telephone, whatsapp, wecha, we will reply you immediately.
7, What's your warranty?
One year warranty: if there any problem happens with your machine, we will repair it free of charge.
8, If the machines broken during the shipment, how to do?
Re: Generally there will be transportation insurance in the shipment, once there is any damage during the transportation, HONKON will help you to solve the claims with the insurance companies to collect your money back in time.
9, Do you take part in the world exhibition every year?
Re : Yes, we took part in domestic and overseas exhibitions each year, such as hold in Moscow, Japan, India, Indonesia, Germany, Dubai, Italy, Australia, Mexico, Hong Kong etc…

Who We Are?
Lumsail Industrial Inc. (Shanghai)
We're the leading manufacturer of the shock wave machine in China. Factory direct selling:
1. You will get the latest product, quick delivery (commonly same day after payment).
2. Direct engineering after-sales support.
3. Professional technical guide to maintain and sustaining.
4. OEM/ODM or client customization. We welcome distributor to customize their machines for certain market.
We sincerely welcome your coming to our factary and office. Come to Shanghai China!


How To Contact Us?
Ray Liu
Lumsail Industrial Inc. (Shanghai Factory)
Sincery International Limited
/Mobile+86-131 6626 5161

Address: 4/F, NO. 9 YI, Lane 2, Suide Road Zhengru Science Park, Putuo District, Shanghai